Palladio Concept creates turn-key solutions, harmonizing every single element of the environments that our clients want to project or renovate.
In addition to the surfaces' production, the company supports architects and private clients to carry out the most ambitious projects with high-quality service and a hyper-customized approach.
We believe that materials should be used in the service of design and not vice-versa.
We give freedom of designing and implementing visionary projects. Palladio Concept is committed to overcoming not only material challenges but also those related to structural or space obstacles.
To achieve this goal, we hired the best Italian artisans, capable of manufacturing every element of the project.
Our research and development lab
We invested in an in-house lab where all the materials are developed and tested.
The lab is key to keep up with the new technologies and to fulfill completely the expectations of our clients.
Innovative and sustainable solutions allow us to realize flooring, surfaces, furniture, and any element required in the project.
This leads to high quality and unique products.
In house labs for every need
A workshop of more than 1500 sqm. 20 years of experience
With carpentry and joinery labs, Palladio Concept is equipped with workshops that allow the client to save time and energy.
The entire project can be realized in one place, without interacting with numerous contractors.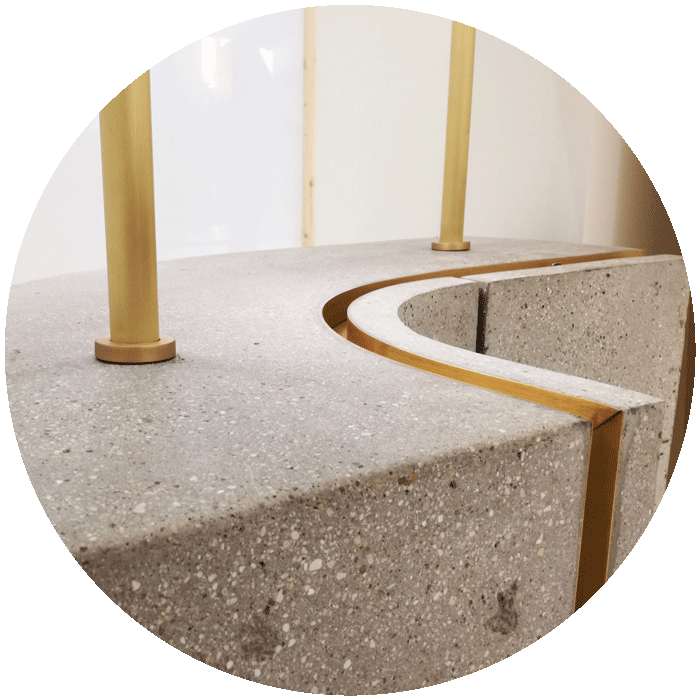 Personalization is key because the architects and clients we work with need solutions customized in terms of shapes, colors, and touch.
The second aspect that Palladio Concept considers is finding a solution to all the challenges that an ambitious project may encounter.
From the reduction of weight loads to every request related to aesthetics, Palladio Concept is ready to propose the most suitable solutions to overcome even the most complex design challenges.
Our company serves an international audience, managing every single phase of the project. This turn-key service leads to high satisfaction of our clients, who save time and energy.